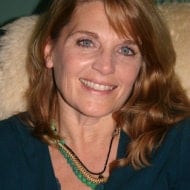 Owner, Curator, Owner, Buyer, Photographer, Shipping
Welcome to Peony Expressions, Vintage Collections,
my Esty shop that you can find here
I am a Romantic at heart, collecting things that make me happy. I have been an avid collector of vintage items for over 30 years and I love a good bargain. Every item in my shop I would be happy to have in my home, only I don't have the room. I want you to find just what you've always wanted here!
As few of the things I like are the color pink, peonies, my Yorkie ....and anything old and rustic. I have a wonderful family, five daughters, two granddaughters and a very understanding husband, (not to mention my three son-in-laws).
There are just three of us at home now, as daughter number 4 is off to college. We live in a neighborhood in the country so we have a garden, bees and 4 hens. And two dogs, two cats, two finches, ...I think that's all...due to the fact that my youngest daughter is an animal lover.
I also am a woman of many hobbies and jobs. I love to cook, sew, read, run, hike,and enjoy the beauty of the outdoors. I taught each my girls at home for twenty-five years, I loved
homeschooling
them!. I also work a few hours a week for a lawyer friend of mine. Life is good and I truly love what I do. But buying and selling Vintage is my passion. It's always been a part of my life.
I remember how my grandmother used to let me play dress up when visiting her and would let me wear her antique jewelry. My maternal grandmother gave me her blue willow china, that I had admired, once I had graduated from college. When my husband and I married he brought with him, his antique bottle collection, of over 300! We had a floor to ceiling shelf in our first apartment, but soon after the birth of our first daughter, he sold most of the bottles, only keeping his favorite few. Such a display was not conducive to a toddler! Hence, I cannot pass up a beautiful or unique treasure because I know it has it's own story and would just be perfect for someone, somewhere.
And I am happiest when I am making something, if I'm not browsing an antique store, flea market or hunting out the best yard sales.